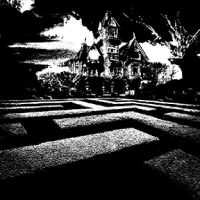 At just over 1 acre, the Menacing Maze is, pound for pound, the funnest corn maze in North Carolina. Fun Fact: Its not actually corn, but a twisted sorghum hybrid meticulously cultivated in graveyard soil and enriched with zombie fodder (who knew, right?).
This corn maze is family friendly, with no haunters inside. Its just you against the maze, "mano a mano". We've hidden 5 stations among the corn, spelling P-A-N-I-C.  Want to have some fun? Divide your group up and compete to find the letters and escape first. Will you break out to freedom, or spend eternity spinning your wheels?
Scare Rating: 1 out of 5 skulls.
Cost: 1 Attraction Ticket