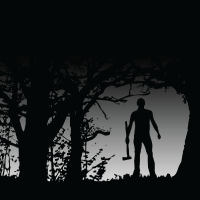 This is why you came. The half mile trail of terror at Panic Point is home to 11 scenes; The Human Jerky Plant, Dollhouse, Voodoo Shack, Junkyard, Pallet Maze, Sanatorium, Motel, Graveyard, Church, Serial Killer House & Clown House, all filled with the nastiest assortment of necromancers you can imagine, and some you can't.
Each and every monstrosity on the trail wants something from you; a scream, a loss of bowel control; your heart, your breath, your brain, your blood, or your soul.
Whether you run away, cower in horror, or face your fears, you'll come out knowing one thing: Those woods really are haunted.
Scare Rating: 4 out of 5 skulls.
Cost: $19 at the door. Online pre-purchase discounts available.