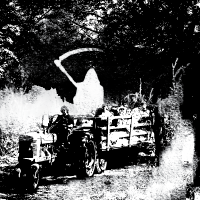 The "Howling" Haunted Hayride is one of the "Treacherous Three" Featured Attractions at Panic Point (along with the Haunted Forest and the Dark Trail). You'll soil your hay bale as your broken-down trailer lurches deep into the obscurity of the woods. But its the fluid of the crimson variety you need to be worried about. Hold on to your loved one, and your extremities, because the creatures that abide within are hellbent on one prize: your blood.
Tell the conductor of this wicked wagon not to stop for anyone or anything, alive or (especially) dead, lest you are overtaken by the aimless, moral-less beings that possess the shadowy locales you will pass through on your journey. The security you feel on the moving vehicle is just an illusion. You can't outrun the danger, and hiding your eyes won't help, when fear is your cloak, and panic is your veil.
Scare Rating: 4 out of 5 skulls.
Cost: 3 Tickets.  ($7.50 a la carte or $6 as part of a discount package.)