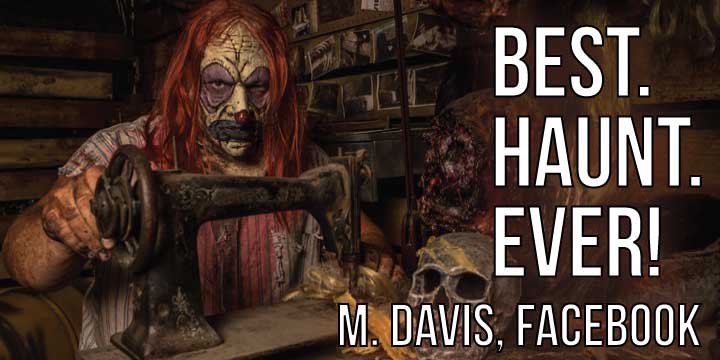 The Best Haunted House Near Knightdale, NC
The Haunted Forest at Panic Point will make you want to close your eyes and never wake up, but this walking nightmare with 10 scenes and dozens of haunters is just the beginning of the "fun" you'll have when you dare to show up. Six attractions run the fear gamut from total darkness in The Dark Trail, to the spooky rumble of the tractor in the Haunted Hayride. The Carny Crypt Trailer is wickedly intense, and the corn maze will keep you turned around and playing with your mind.  You can win a t-shirt shooting zombies in the head (laser gun), hang by the fire, watch "Scare Cam", or grab snacks and hot chocolate while you hang in the safety of "the circle" with the DJ.  Always assume, though, that from parking to exit, some kind of creature is lurking, waiting for the right moment to separate you from your bodily fluids.
Directions to Panic Point from from Knightdale, NC
Head north until you hit 401. Turn Right (north) on 401.
Turn left onto NC-96N and take it to Youngsville
Turn right at the light on W. Main St. and proceed .6 miles.
Turn left onto Cedar Creek Rd. (at the Citgo) and proceed .3 miles to the entrance on the left.