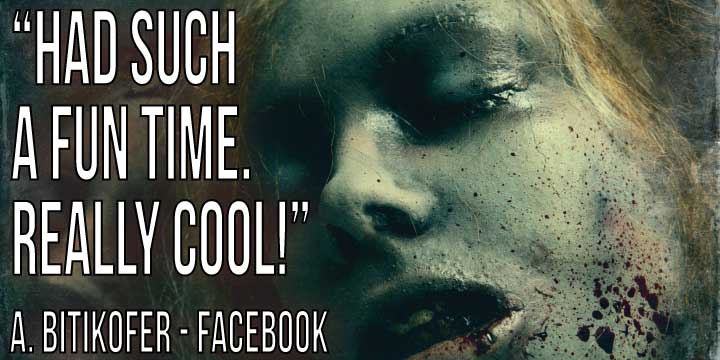 The Best Haunted House near Roanoke Rapids, NC
Just down the road, in sleepy Youngsville NC, Panic Point oozes fear and frights.  Every fall since 2011 we have called on an assortment of creatures, freaks, and monsters, to roam these woods of terror. Some don't even make it past the entrance before they are sprinting for the car. With 5 unique attractions:  The Haunted Forest, The Dark Trail, The Howling Hayride, The Menacing Maze, & The Haunted Corn Maze, you'll spend hours alternately screaming, laughing, crying, and (perhaps) peeing your pants. We always have a bonfire going, music playing, hot chocolate, popcorn, and a place to hang and watch SCARE CAM (other people getting theirs). Panic Point is a Halloween Event like no other, and its all just a short drive away.
Directions to Panic Point from Roanoke Rapids:
Take 48 South to Brinkleyville.
Turn Right on Longbridge Rd then Bear Left on 561
Turn Left at the T, and take 561 all the way to Louisburg.
Turn Right on 56.
When Peach Orchard Joins Mays Crossroad, turn Right.
Take an Immediate Left on Hill Rd.
At the T, turn Left on Cedar Creek Rd.
Panic Point is about mile up on your right.