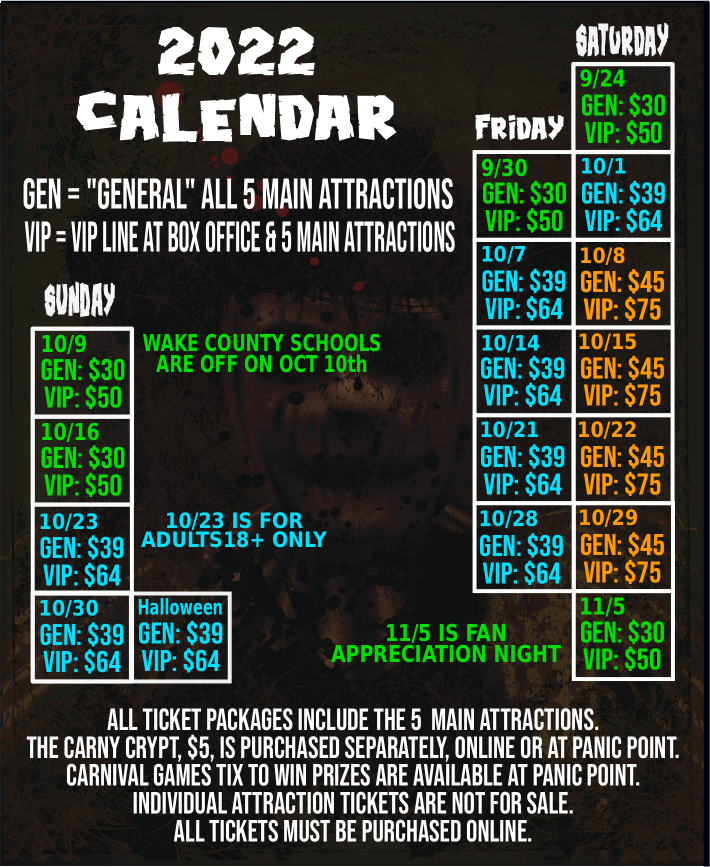 Parking is FREE
Tickets are non-refundable. If we are forced to cancel a night for any reason you will receive Panic Point credit for future use.
Tickets are for a specific date & time. Please arrive at the Box Office at the time on your ticket.
Panic Point closes about 90 to 120 minutes after the Box Office closes, depending on crowd size. Exact close times will be posted nightly on the website.
Military, First Responders, Educators, get 15% off. Text proof of service to 919-578-8478 to receive your discount code.
Date
Box Office
Open
Box Office
Close
Sat, Oct. 8
7:00 pm
SOLD OUT
Sun, Oct. 9
7:00 pm
SOLD OUT
Fri, Oct. 14
7:00 pm
9:15 pm
Sat, Oct. 15
6:45 pm
SOLD OUT
Sun, Oct. 16
6:45 pm
SOLD OUT
Fri, Oct. 21
6:45 pm
SOLD OUT
Sat, Oct. 22
6:45 pm
SOLD OUT
Sun, Oct. 23
6:45 pm
8:15 pm
Fri, Oct. 28
6:45 pm
SOLD OUT
Sat, Oct. 29
6:30 pm
SOLD OUT
Sun, Oct. 30
6:30 pm
SOLD OUT
Mon, Oct. 31
6:30 pm
8:15 pm
Sat, Nov 5
6:30 pm
8:15 pm