THE INSIDER'S GUIDE TO PANIC POINT
All the information you need to maximize your haunt experience
Discounts and Coupon Codes
Text Alerts. Text "Panic" to 31996 to receive a code for 10% off your online purchase, and future offers via text.
Online Special. Our biggest nights are 10/20 and 10/27. No discounts those nights. But if you buy online for any other night you'll pay a maximum of $30 for The Package of Fear, $27 for Triple Fright, and $18 for the Haunted Forest (there is a small service charge for online purchases). Online special ends at 7pm for tickets that night.

Social Ladder App.

  Earn points via social media & sharing your personal discount code. Code is "panicpoint". More info
Group Rates. Purchase for a large group and save 10%. If your order is above $200 you will automatically be given 10% off. No code necessary. Works IN ADDITION to discount codes.
Discount Cards. Get $5 off any package at the door. Cards are

usually

available in Youngsville at New Tokyo Restaurant, Diamond Pizza, Scoops on Main, and Charron's Deli
Military, Police, Fire, Rescue. Show your ID at the door and we'll give you $10 off the Package of Fear or the Triple Fright for you and the people in your group (even if they are not service).
College (10/25) & High School (10/30) Nights. $25 for The Package of Fear. Online or at the door.
Fundraising. E-mail PanicPointNC@gmail.com for a code. Purchasers get 10% off and your organization gets 15%. So Easy. (more info)
How to Avoid Long Lines
Print the Waiver at home & bypass the waiver table. We collect all waivers at the ticket booth.
Grab VIP Passes on crowded nights. The far right ticket window is VIP Only. Inside the venue it applies to The Haunted Forest, Dark Trail, & Hayride.

Work the System.

 Your ticket to the Haunted Forest Trail, our featured attraction, has a number on the back. You can't even get in line until the counter at the entrance to the Forest shows your number or higher. We make sure the line is never more than about a 30 minute wait. So, if you arrive in the first hour, consider hitting a couple of our additional attractions first. Then you should be able to get right in line for the Haunted Forest.
Come on Lighter Nights. The following calendar will give you an idea of how crowded we anticipate being on any given night. As we grow, even the green nights have some lines. The orange nights are super busy, but the 20th and 27th stand on their own for crowd size. Its the worst if you show up between 8:30 and 9:30 one of those nights…better to get there at 7 or 10. The last 2 Saturdays in October have sold out the last 2 years.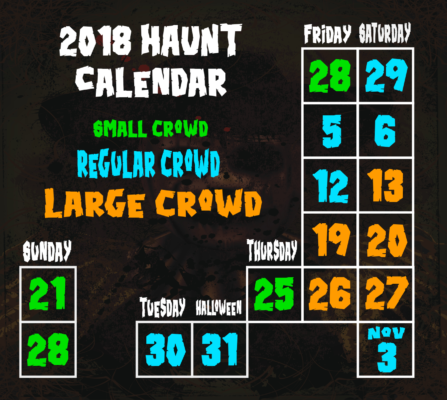 The bottom line is, if you want a more intimate experience, show up on our least crowded nights. You can typically get a deal on admission, you'll encounter less people, and the scares are all the same!
You Save by Buying Packages
The Haunted Forest is $20 when you buy it a la carte. All other attractions use "carnival style" tickets.
Dark Trail: 4
Hayride: 3
Killers in the Corn: 3
Menacing Maze: 1
Carny Crypt: 1
Experiencing those other 5 attractions requires a total of 12 attraction tickets, which cost $24 when you buy at Panic Point. $22 + $20 is $42, so you save $7 buying the Package of Fear (Which includes a Haunted Forest ticket and 12 "additional attraction tickets")
Additional Attraction Tickets are available for purchase at the ticket booth inside Panic Point (between Carnival Games and the Haunted Forest Exit) at a cost of $2.50 per, or $2 per ticket if you buy 8 or more.
Why we have Sellouts
As much as we would LOVE to give each patron their own personal, private, haunted experience, we can't do that. So, we send you into our attractions in groups. Here are the steps we have taken, especially in the Haunted Forest, to make your experience the scariest it can be on any night you come out.
Groups enter the attractions at regular time intervals. We keep track of numbers every 15 minutes, evaluate, and adjust the flow into the forest accordingly.
"Haunted Ushers" control flow inside the Haunted Trail by pulling slow groups temporarily aside.
Panic Point will close to new patrons when we reach max capacity. Purchasing your ticket online is the only way to guarantee entry on the most crowded nights. Saturday, Oct 20 & 27 are the biggest, and sold out the last 2 years.
We will extend closing if necessary (no later than 1AM)