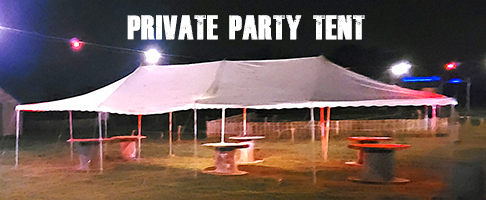 Compay Party? Birthday Bash? Reserve the Party Tent at Panic Point and get FULL VIP TREATMENT. When you arrive you'll go straight to the tent, up to 15 minutes before our Box Office Opens. Your Concierge will greet you, advise on the best way to enjoy the park, deliver your food, and answer all of your questions. Your tent won't close until our Attraction Lines close, so you'll have the entire night to hang out with your group at this home base. To inquire or make a reservation, simply call or text us at 919-578-8478.
WHAT'S INCLUDED
VIP Front of Line for all 5 Main Attractions

Carny Crypt

2 Slices of Pizza

2 Drinks

Popcorn

$10 Off T-Shirts

No Box Office line – go straight to tent

Group/Company Logo displayed on Monitor

$70, $84, or $95 Per Person depending on specific night price level. If you look at our Calendar Page, simply add $20 to the VIP price, and that's the price per person for the Tent.

15-24 People: Half Tent

25-50 People: Full Private Tent
TEXT OR CALL 919-578-8478 for a reservation or more info.
Full Payment due at time of reservation. Cancelling a Reservation before 9/24 will incur a 10% fee. No cancellations after 9/24. If we have to cancel a night due to rain (or any other reason) you may re-schedule or request a full refund.