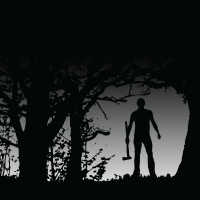 The reason you're at Panic Point. Our 1/2 mile trail of pain has 11 unique scenes and dozens of haunters to put dread in your every step…Jerky Co., Doll House, Voodoo Shack , Junkyard, Strobe Maze, Sanatorium, Motel, Graveyard, Chapel, Zeke's Cabin, & Clown House are all filled with the nastiest assortment of necromancers you can imagine, and some you can't.
Each and every monstrosity on the trail wants something personal from you; a refusal to enter, a shriek, a loss of bowel control; your heart, your breath, your brain, your blood, or your soul.
Fight or flight? Will you cower in horror, or face your fears?  When and if you emerge from the Haunted Forest you will know one thing for sure: Those woods really ARE haunted.
Scare Rating: 4 out of 5 skulls.
Cost: $19 at the door. Online pre-purchase discounts available.