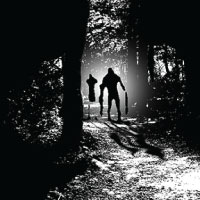 Are you afraid of The Dark? Light is kept to an absolute minimum in The Dark Trail, so you'll need to use the rope provided (aka "death line") to figure out which way to go.  A number of years ago we were invaded by a family of Doomsday Preppers, who set up a compound in the woods and started recruiting other whack-jobs to help the work of preparing for The End.
As they laid the groundwork for surviving Armageddon, they were forced to expel two of the young men who had been caught stealing moonshine from the root cellar. Bitter and vengeful, the two mixed up a few pounds of mutagen, then hijacked a crop duster and blanketed the entire compound in a mist of deadly vapor.
Those on the ground could do little to avoid the bio weapon, which caused irreparable neurological damage to the entire pack. The only thing more gnarled and twisted than their bodies are their minds. You must avoid contact with them of any kind, despite the fact that you'll be walking right through places like their barn and farm house. And when you're staggering along in sheer darkness, you'll never know if you are in the clear, or one step away from your worst nightmare.
Scare Rating: 4 out of 5 skulls
Cost: 4 Tickets