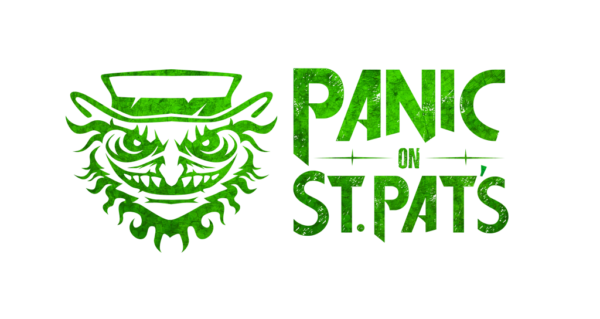 The spring equinox & pushing the clock forward usually conjure thoughts of sunshine, the emergence of tender flowers, and renewal. We're all for things coming out of the ground, we just prefer those things be scary and dead. Bring on the chills, uneasiness, and fright! Its the 3rd Annual "Panic Point on St. Pat's" on Saturday March 13th. (Not exactly the 17th, but close enough).  
This is a one night only event. We will be operating at about 20% of capacity, with arrival times beginning at 6:40pm. Please visit our Covid Page if you have questions about how it will all work. Just like the fall, all patrons will proceed in a prescribed order with one change: THE HAYRIDE IS BACK!!! You'll start in the Dark Trail proceed to The Haunted Forest, and finish with The Howling Hayride. (No Killers in the Corn because…no corn.) Be the first to see a few cool new elements we've added to the Hayride as we prepare for the 2021 fall season. 
Tobacco Wood Brewing Company will be on hand serving $5 pints of "Kilted Deadie" Stout, "Far Darrig" Red, and "Kelpie's" Kolsch. GET YOUR TIX TODAY!